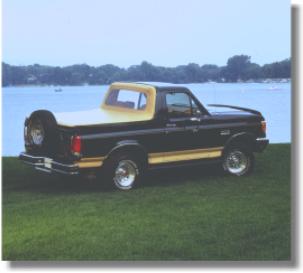 A convertible soft top for your Bronco, Blazer & Jimmy

If you haven't had the factory fiberglass hardtop off of your truck you are missing out on a lot of fun. The soft tops Skyler sells are the hottest thing around for the Bronco, Blazer and Jimmy. They enable you to have a sporty convertible, and yet are so well engineered you won't drill one single hole or make any modifications. So now it is easier than ever to go convertible!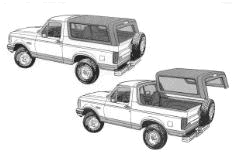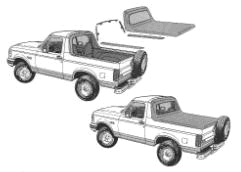 Un-bolt your factory hardtop
Bolt-on our unique soft top
Remove your factory fiberglass hardtop in just minutes. It's quicker and easier than you think. In most cases your owner's manual will show you how. If not just ask us.
The specially designed frame bolts on to your truck using the same bolts from your factory hardtop. The durable vinyl soft top will attach to the frame in less than a minute!.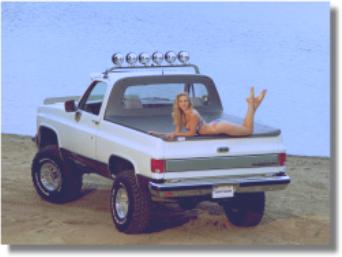 Why take your hardtop to the beach when you can take this to the beach instead?

Go convertible!
| | |
| --- | --- |
| The unique bolt-on hardware is custom stamped and formed to fit your specific vehicle. It is a heavy gauge aircraft alloy aluminum for added strength and rigidity. The individual pieces are pre-assembled and ready to bolt-on right from the box. In addition there is a durable UV resistant black powder coated finish so the frame looks great even when the soft top is off! | |
| | |
| --- | --- |
| | Instead of using troublesome snaps, this top uses the newest high tech hook and loop fastener to attach the soft top to the frame. This fastening system is so durable it is guaranteed for 10,000 cycles of use! Unlike snaps, which leave large gaps in-between, the hook and loop velcro type fastener provides a continuous bond and a super smooth drum tight fit. |
| | |
| --- | --- |
| The soft top is designed so it is easy to load and unload cargo. Plus the soft top extends to cover the top of the tailgate. This allows water to drain off the truck and not into the tailgate and window mechanism! | |
Skyler Sport Top Prices and Applications
Application

Part No.

List

Skyler

92-96 Fullsize Ford Bronco
25048
$649.00
$569.00
80-91 Fullsize Ford Bronco
25047
$649.00
$569.00
78-79 Fullsize Ford Bronco
35047
$599.00
$529.00
76-91 Fullsize Blazer/Jimmy
45047
$649.00
$569.00
If you would like to place an order click on Order Products
Sport Top Options
Tinted Rear Window
This dark tinted window is the most popular option and will cut down on the Sun's harsh rays. It adds a hot look to your Sport Top. Available for all Sport Top models.
Application
Part No.
List
Skyler
All vehicles
Tint
$21.99
$19.98
Sport Top Storage Bag
Keep your soft top protected when it's off the truck with this Skyler storage bag. Available in cool white, with large blue SKYLER graphic.
Application
Part No.
List
Skyler
All vehicles
8523
$34.99
$32.98
Sport Top Colors
Black White Dk Blue Tan Red Grey

To see samples of the colors click on Colors
More questions? Try our Frequently Asked Questions page
Home | Back to Top | Soft Top Conversions | Unique Accessories | Technical Support | Contact Us | Order Products | FAQ | Colors
---
Copyright Ó 2010 Skyler Corporation. All rights reserved. The name Skyler and associated logos are trademarks and the property of Skyler Corporation. All artwork, pictures and designs may not be copied, reproduced or used in any way without written authorization from Skyler Corporation. All other trademarks are the property of their respective holders.
Comments or suggestions can be directed to the webmaster